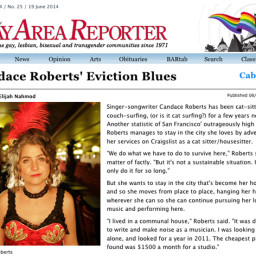 Candace Roberts' Eviction Blues
Singer-songwriter Candace Roberts has been pet-sitting and couch-surfing, (or is it pet surfing?) for a few years now. Another statistic of San Francisco' outrageously high rents, Roberts manages to stay in the city she loves by advertising her services on Craigslist.
"We do what we have to do to survive here," Roberts said matter of factly. "But it's not a sustainable situation. I can only do it for so long."
But she wants to stay in the city that's become her home, and so she moves from place to place, hanging her hat wherever she can so she can continue pursuing her love of music and performing here.