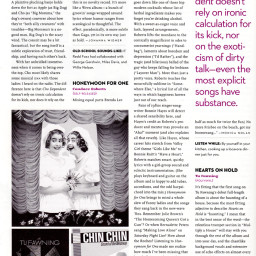 Bitch Magazine: Winter 2010 Issue
Honeymoon For One
Candace Roberts
(self-released)
Mixing equal parts Brenda Lee and Jane Siberry with a twist of lounge, singer-songwriter Candace Roberts's debut CD goes down like one of those hip modern cocktails whose list of herbal ingredients makes you forget you're drinking alcohol. With a sweet as sugar voice and lush, layered arrangements, Roberts lifts the mundane to the comically magnificent in odes to consumerist yearnings ("Handbag"), laments about boredom and depression (I'd Rather"), and the tragic (and hilarious) ballad of the guy who keeps falling for lesbians ("Layover Man"). More than just a pretty voice, Roberts touches the mournfully sublime in "Somewhere Else," a lyrical list of all the ways in which happiness hovers just out of our reach.
Fans of 1980s singer-songwriter Bonnie Hayes will detect a shared sensibility here, and Hayes credit as Roberts's producer and mentor may provoke an "Aha!" moment (and also explains all that reverb). Like Hayes, whose career hits stretch from Valley Girl theme "Girls Like Me" to Bonnie Raitt's "Have a Heart," Roberts matches smart quirky lyrics with a girl group sound and eclectic instrumentation. (She plays keyboard and guitar on the album and is happy to add tubas, accordions, and the odd harpsichord into the mix.) Honeymoon for One brings to mind a whole slew of funny ladies and the songs they sang back in the new-wave '80s. Remember Julie Brown's "The Homecoming Queens's Got a Gun"? Or when Bernadette Peters sang "Making Love Alone" on Saturday Night Live? How about the Roches? Listening to Honeymoon for One made me realize how much I've been missing that breed of singers, that combination of bouncy pop and witty, feminist sensibility. We need more songs like "Say I Do," wherein Roberts riffs on marrying herself: "Booked a honeymoon for one/ Cost me half as much for twice the fun/ No more Frisbee on the beach, got my boomerang…" – MONICA NOLAN
LISTEN WHILE: By yourself in your kitchen, cooking up a locavore dinner just for you.