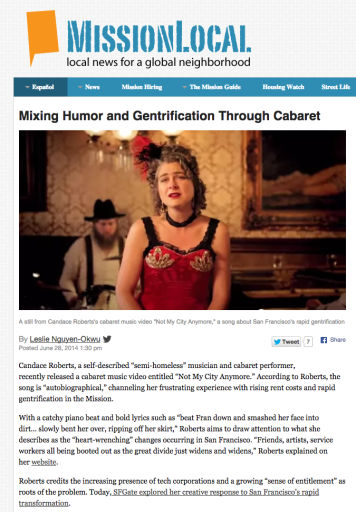 Mission Local
Roberts' crass depiction of the city as a pimped-out woman taps into a ripening frustration over the effects of a widening wealth gap in San Francisco, the deeply rooted feeling that as those associated with the city's tech boom get richer, everyone else just gets poorer.
Her cabaret, you might say, is a theatrical answer to the city's Google bus protests, which have cast the buses that shuttle tech workers from San Francisco to Silicon Valley as the symbols of an entire industry's footprint on the city.
In a music video for the song, a "24-year-old gazillionaire" techie, accessorized by a glittering gold iPhone, cuts deals with City Hall to get richer, while Roberts and a chorus of old-timey saloon girls sing about their own heartbreak and confusingly fiddle with iPads.
At a premiere event for the video on Wednesday, Roberts brought on stage two Mission District residents, both disabled seniors, who are fighting evictions after decades in their apartments. The event took place at the Gold Dust Lounge, also the location for the video and a landmark which itself was evicted from Union Square in 2012 and relocated to Fisherman's Wharf.